Happy Holidays!
All the best to the NodeXL Network! 
Season's greetings and Happy New Year!
---
Coming soon!
NodeXL Pro - Power BI Edition
Microsoft Power BI is an application that builds on Excel data and SQL databases to deliver interactive data visualization and analysis to the desktop and the web.  The Microsoft Power BI Desktop application is free for all users.  The Power BI Pro web service does charge a modest monthly fee (USD $9) for additional features (many universities and large corporations may already have access to Power BI Pro - check with your IT support!).
At the Social Media Research Foundation, the NodeXL team is working on a new update to release in 2020 that integrates NodeXL Twitter social media network data sets with the Power BI data model and visualization interfaces.
Interested in NodeXL Pro Power BI Edition?
Contact us for details!
---
Featured NodeXL Network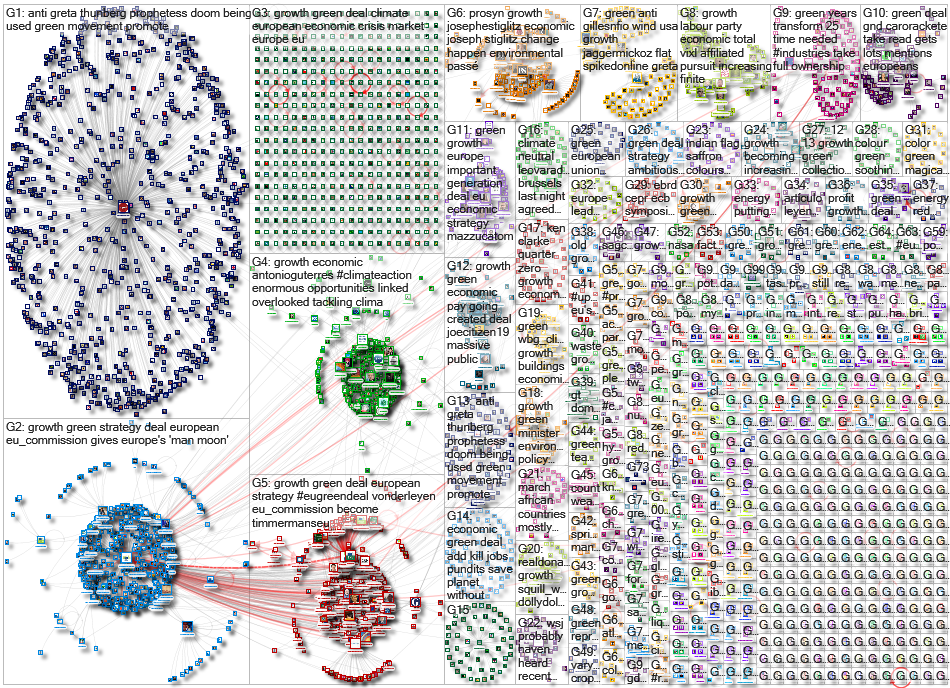 green growth via NodeXL http://bit.ly/34CnlNz
The graph represents a network of 5,568 Twitter users whose tweets contained "green growth".  The tweets in the network were tweeted over the 6-day, 12-hour, 15-minute period from Wednesday, 11 December 2019 at 12:44 UTC to Wednesday, 18 December 2019 at 00:59 UTC.
Click here for the full network report in NodeXL Graph Gallery.
---
New in NodeXL Pro!
Have lots of tweets in a file?
Our New Twitter Importer is for you!
Many users have data sets of collected tweets that they would like to import into NodeXL Pro for social media network analysis.
In many cases, these data sets are in non-standard formats and have a variety of data elements, which makes it difficult to import reliably.
Processing these files has often been difficult or impossible if essential data elements are not present.
In version 422 and later of NodeXL Pro a new feature is available to help with these issues:

Import from Twitter TweetID List Network
Using this importer, It is now possible to copy a column of Tweet IDs and paste them into this dialog box to collect all the data fresh from Twitter.
Users with existing collections of Tweets can import them into a spreadsheet to extract the column of Tweet IDs.
This method helps to ensure the quality of the imported data.
---
Notice:
NodeXL Pro Facebook Data Importers no longer functional
  On September 4th, 2019, Facebook has changed its API with the result that many research apps accessing public posts are no longer functional. The NodeXL Facebook data importers are also affected by this change.
Our team has requested permission to these API calls and have been rejected. We are applying again just to see if we can get a different outcome. We do not really expect that there will be a change.
If we can not restore access to the Facebook API we will remove the option from the application in an upcoming update.  We regret the loss of this important data source for our users.
We note that it is increasingly important to independently understand the nature of social media and Facebook's decision to restrict access to public data is an obstacle to this goal.
---
NEW!
NodeXL Pro Tutorials
Learn advanced features of NodeXL with these new step-by-step tutorials!

Semantic Networks
Create networks with words, hashtags or video tags
When words appear next to other words a connection is formed between them.  When words appear next to one another with high frequency, the connection grows stronger.  The network of associated words can reveal important insights into a collection of documents or messages.
-----------------------------------------------------------------------------------
Twitter User Networks
Working with Twitter User lists

Lists of Twitter users can be a powerful analytic object when analyzed using the NodeXL Twitter Users Network importer.  This importer takes a list of @usernames and collects the tweets from each user to find the connections among them.  When a list is a notable group of people, the results can be insightful.  For example, the list of all members of a national parliament can be analyzed in this way.  A sample analysis of the German Bundestag illustrates this method.
---
Featured NodeXL Tweet
---
Featured NodeXL Publications

A Social Network Analysis of the #SugarTax debate on Twitter
by Gemma Bridge, Stuart Flint, and Ralph Tench
Twitter conversations about food poverty: an analysis supplemented with Google Trends analysis
by Fatemeh Eskandari, Amelia A. Lake, GarryWeeks and Mark Butler
A Time Series Analysis of Social Media Utilisation by Airport Watch and HACAN Clearskies: Two UK Anti-Airport Expansion Groups
by Andrew D. Rowe and David E. Pitfield
---
Many more publications that make use of NodeXL can be found here.
Your NodeXL publications can be presented in our future Social Media Research Foundation newsletters.

Please contact us with details about your papers and publications!
---
Upcoming NodeXL Events

Join us for talks and workshops on networks, social networks, social media networks, and more.
January 27- Feb 1, 2020, SmartData Sprint, Lisbon, Portugal
https://smart.inovamedialab.org/2020-digital-methods/


May 31, 2020: Machine Learning Week / Predictive Analytics World, Las VegasWorkshop – Big Data: The Leading Ways to Improve Business with Data Science (Non-Technical) 



June 8-11, 2020: ICWSM, Atlanta Georgia


June 2-7, 2020: INSNA Sunbelt, Paris France


November 6, 2019: Business Innovation with Digital Technology - guest lecture with Dr. Wasim Ahmed and Dr. Marc Smith at University of Salford, UK.




November 8, 2019: NodeXL workshop with Marc Smith and Wasim Ahmed at the Graduate School in Nottingham, UK. 1-3PM.


November 13, 2019: It's time Think-Link with NodeXL! with Marie Brugère from @Agence_Socialty and Marc Smith in Paris, France.




November 18, 2019: NodeXL Lunch Talk at Alexander von Humboldt Institut für Internet und Gesellschaft (HIIG) in Berlin, Germany.




November 19, 2019: Marketing Analytics Summit - Predictive Analytics World with Harald Meier, Arber Ceni, and Marc Smith, Berlin, Germany.


---
2nd Edition Published!
Analyzing Social Media Networks with NodeXL: 
Insights from a Connected World 

We proudly present the second edition of our book Analyzing Social Media Networks with NodeXL: Insights from a Connected World. The book has been published by Elsevier is available since June 19th, 2019.  This edition updates many of the changes in the NodeXL application since the publication of the first edition (in 2010!).  Learn how to use Automation, Time Series, Word and Word Pair analysis, and how to collect data from Wikis, Twitter, and YouTube!
Contact info@smrfoundation.org to request a book discount code!
---
Team NodeXL has recently added a new way to access NodeXL - 
NodeXL Pro Cloud Commercial User edition.

This is our first offering of a monthly NodeXL Pro license combined with the computer, operating system, and Office suite preloaded and installed - ready to use from almost any connected device with a web browser. 




Any connected tablet, phone, Mac, Linux, or even underpowered Windows PC can now access NodeXL Pro via a powerful remote virtual machine that is fully preconfigured and ready to roll powered by our partners at Intact.Digital.    

Academic and student users can "roll your own" version of NodeXL Pro Cloud Edition by creating an Amazon EC2 Virtual Machine and copying Office and NodeXL into it. 

Detailed step-by-step directions are available here:
https://www.smrfoundation.org/2018/01/02/using-nodexl-in-the-cloud/
---
Know how to automate NodeXL?
NodeXL is the easiest way to get insights into a connected structure.  If you can make a pie chart you can now make a network chart.  Learn more about the ways NodeXL Pro can automate your network analysis to generate reports and insights with just a few clicks.  See the video or take a look at the Tutorial on Automating NodeXL Pro!

---
Request a NodeXL talk at your next event! 
Networks are a topic of interest in many
universities, organizations, agencies and businesses.
Learn how to "Think Link" and gain insights into connected structures.

Request a talk, lecture, workshop, or training series to help your organization "Think Link".
---
Is your copy of NodeXL Pro about to expire?

Already a NodeXL Pro user? Renew now!
---
Commercial Users can License NodeXL Pro by the Month
NodeXL Pro can now be licensed by the month as well as by the year.  
Get started with NodeXL Pro for just $79 per month. 
---
About This Email
This is an automated email.
You are welcome to reply directly to this email to contact us.
You received this message because you signed up for the
Social Media Research Foundation newsletter.
We are committed to protecting your privacy.

This is our privacy policy.


Sign up for this newsletter
Copyright 2019